Ingo Fast, a Bangkok-based graphic designer, a cartoonist and a full-time freelance illustrator shares us the exciting and creative side of his work. Ingo's illustrations such as starting from postcards 2 decades ago and now icons, covers and posters for visual magazines, newspapers, brochures, websites those are in large scales. He studied at in Berlin and left for New York to set on a dream which is nostalgia now to look back on his journey. The prestigious clients who thrive along with the illustration works of Ingo, are New York Times, Forbes, Bloomberg Businessweek and other reputed products and services.
When you started, Illustration was relatively a new field. How do you see the growth of the field now?
Yes, illustration was a quite small field and very localized. Today, there are many more creatives "looking for space" but at the same time the field is much more diverse and interdisciplinary than it used to be, and because of the much better global reach across an array of traditional and modern platforms, we all have nowadays, access to opportunities has increased, I would say, equally. Budgets, however, because of the expanded competition, are on a downward trajectory, unfortunately, and can lead more often these times to decline an offered commission.

The technology's impact in this field is huge these days? How do you see that?
I totally agree: the vastly improved technology not only in creating art and illustration but also in for promotional efficiency and communication enabling digital nomads etc. makes being an illustrator today definitely easier – if also more dependent on these technologies and probably a bit more stressful.
You started as a freelancer, right? Can you elaborate us about the journey?
I started showing my work "the old school way" – dropping off my portfolio with publishers and ad agencies in NYC, printing my early illustrations as promo postcards, participating in lots of competitions etc. – in 1993. Once work started coming in and I got my drawings published, I signed up with several reps in the U.S., Germany, Japan, France, and England. Nowadays, I still do a lot of acquisition on my own, and a certain portion of my work comes from repeat clients, some who I've known for more than 20 years.
What was your first illustration work?
My first illustration was commissioned by a small newspaper in Zurich, Switzerland, in the summer of 1992. My next projects were a number of editorial gigs for magazine art directors who started giving me a shot, and my first illustration for the New York Times was published on Christmas Eve, 24 December 1994 – a wonderful Christmas present at the time.

You have done works for different magazines and also for children books, postcards, brochures as well. What is the major difference when it comes to the process?
Some assignments have vastly different scopes than others: while newspaper and magazine assignments (as well as advertising projects) tend to impose tight turnarounds, commissions for book illustrations or larger institutional projects typically come with more generous deadlines.
Often, editorial assignments are also more conceptual oriented as well as more space-constrained, which makes for more challenges at the same time as bringing more excitement to the drawing table.

Where do you get your inspirations from?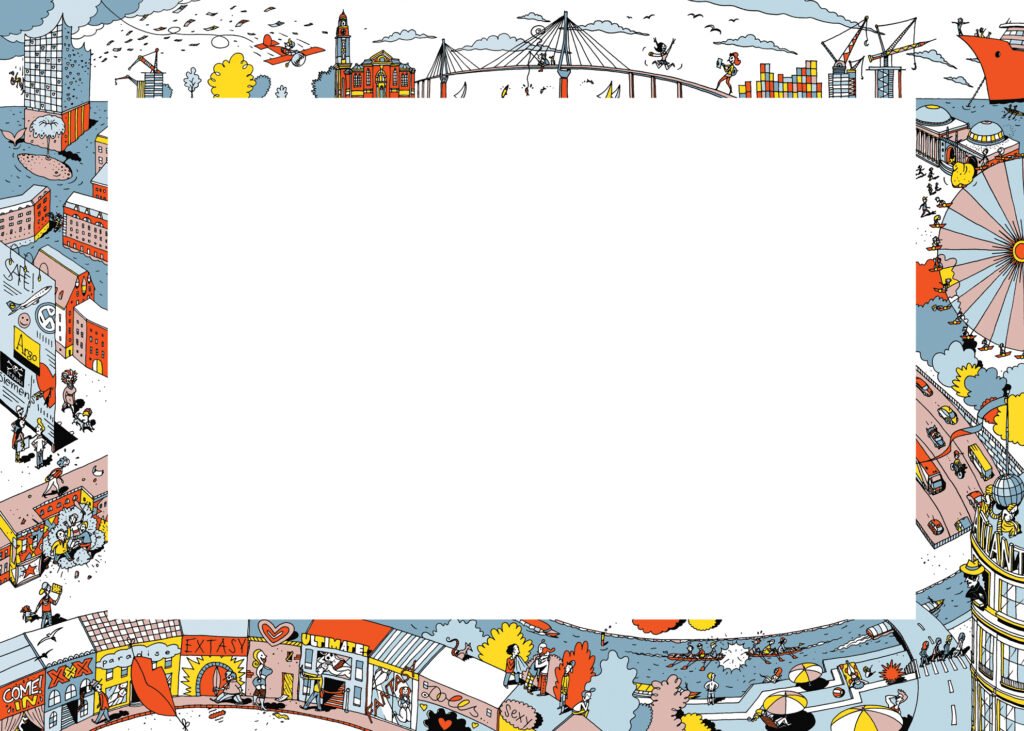 I derive my inspirations from real life, for the most part – my own experiences, my childhood; my travels; my thoughts and fantasies. But also from books, articles, and documentaries about our state of evolution & civilization, the climate, politics… and from a wide array of visual, performing, and cinematic arts examples I'm always hungry to explore.
Any advice for upcoming artists?
I would say: stay on target! Be consistent! Be confident! Be positive! And explore… If we don't try we'll never find out whether what we want to pursue in life can actually be achieved. It's not easy finding "your way" and, on top of it, making a living from it – but nothing is impossible! Remember: the glass is always half full.